This blog debate reflects on the transnational private regulation of speech by Sport Governing Bodies (SGBs), and more specifically members of the Olympic Movement. SGBs raise concerns similar to those discussed in the context of social media companies: When should SGBs intervene to restrict freedom of expression during international competitions? When are private restrictions of freedom of expression legal? And who is competent to decide whether they are?
Read all articles >>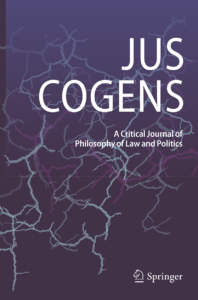 Volume 3,
Issue 3
---
October 2021
JUS COGENS
AND MORE ARTICLES…
9/11 hat sich zum 20. Mal gejährt. Welche Spuren hat dieses Ereignis in der globalen und nationalen Verfassungs- und Menschenrechtsarchitektur hinterlassen? Dieser Frage gehen wir gefördert von der Bundeszentrale für politische Bildung in einer Folge von Online-Symposien nach und bringen Rechtswissenschaftler:innen aus verschiedenen Regionen und Rechtskulturen ins Gespräch.
Read project's articles >>
Sie schätzen die verfassungsrechtliche Expertise, die Sie hier auf dem Verfassungsblog erhalten? Sie hätten auch gerne so eine tolle Tasse hier?

Dann unterstützen Sie doch bitte unsere Arbeit hier auf Steady. Ganz herzlichen Dank!
Subscribe and get our editorial via email!
Privacy
SORT
FILTER
Am 14. Februar 2022 hat der kanadische Premierminister Justin Trudeau erstmals seit 1970 den Ausnahmezustand in Kanada erklärt. Die Maßnahme wird seitens seiner Partei vor allem mit den ökonomischen Folgen der Blockaden von Grenzübergängen und den Ereignissen in Ottawa begründet. Ob die Gerichte im Falle einer Anfechtung die Maßnahmen für rechtmäßig erklären werden, ist derzeit nicht absehbar.
Continue reading >>
1
Load More Posts